bediening | yorcom
Corsair Gaming K55 RGB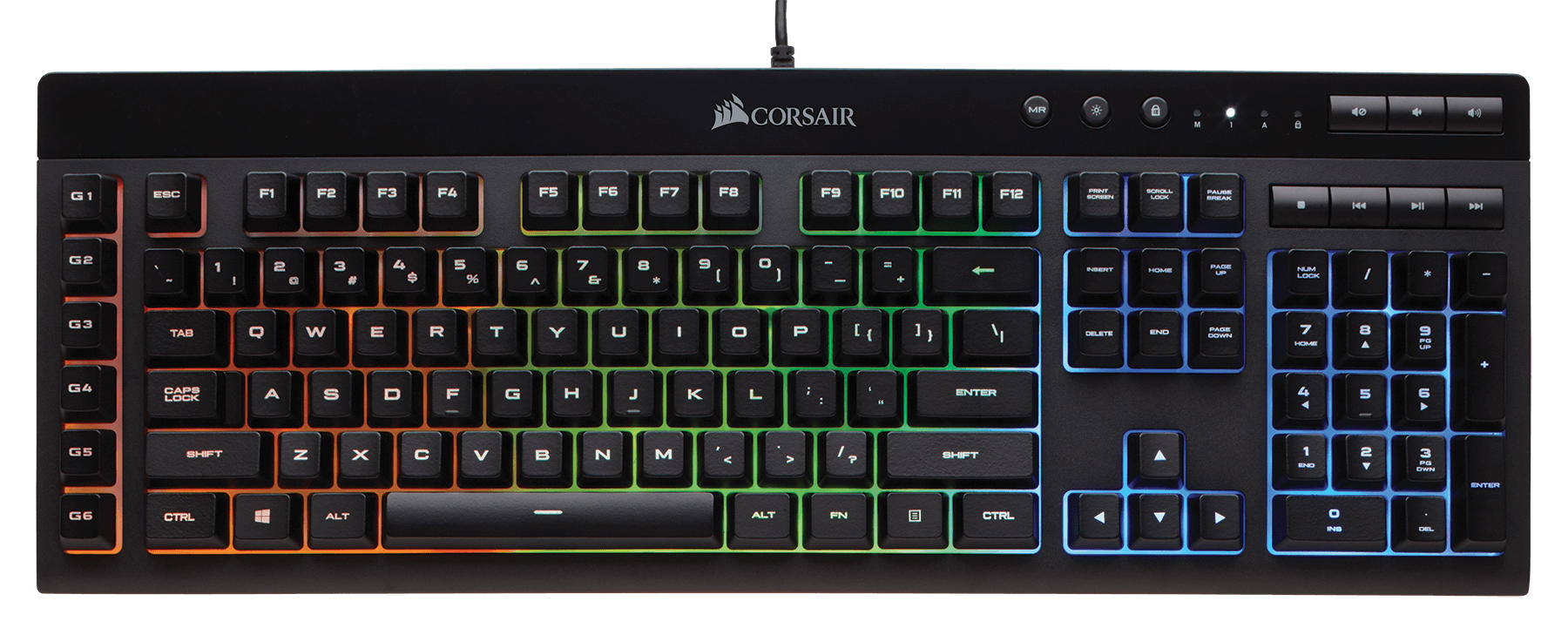 CUSTOMIZATION, CONTROL AND READY TO GAME
Intuitive RGB backlighting modes, 6 dedicated macro keys, multi-key anti-ghosting and media controls provide the customization and control essential for victory. The K55 RGB is your first step towards enhanced performance.

THESE ARE YOUR FIRST STEPS

Dynamic Lighting

Three-zone backlighting for immersive lighting effects

Programmable

6 fully-programmable macro keys

Multimedia Controls

Directly access your audio without interrupting your game

Quiet Keys

Minimum noise and satisfying feel

Multi-key
Anti-ghosting

Simultaneous commands register the way you intended

Detachable Soft
Rubber Wrist Rest

Additional comfort to support marathon gaming sessions

Windows Key
Lock mode

Ensures interruption-free game

Keyboard tilt adjustment

Enable comfort for long play sessions

THREE-ZONE DYNAMIC
RGB BACKLIGHTING
10+ vivid RGB lighting modes allow you to choose between multicolor static backlighting or immersive lighting effects.

6 PROGRAMMABLE
MACRO KEYS
Assign single keystrokes or complex multi-key combos to any of the 6 dedicated macro keys, on-the-fly, without any additional software required to be installed.

DEDICATED VOLUME AND MULTIMEDIA CONTROLS
Adjust your audio without interrupting your game with direct access to volume and media playback.

QUIET AND RESPONSIVE KEYS
Minimum noise and satisfying feel without sacrificing performance.

MULTI-KEY ANTI-GHOSTING
Your commands and simultaneous keystrokes register the way you intended.

DETACHABLE SOFT RUBBER WRIST REST
Additional comfort to support your gameplay during marathon gaming sessions.

FINE-TUNED FEATURES
The K55 RGB's Windows Key Lock mode eliminates distraction by disabling the Windows key while you're in action, while collapsible feet at the bottom of the keyboard allows optimal positioning for your hands.
Yorcom Computers B.V.
Yorcom.nl
is een zeer professionele en toonaangevende computerspecialist. Vanuit de eigen vestiging met ruime showroom, magazijn, werkplaats en technische dienst wordt met volle overtuiging gewerkt aan optimale klanttevredenheid. Een groot assortiment A-merken, deskundigheid, technische support, snelle service en zelfs een eigen PC productlijn vormen de basis voor een blijvende relatie met vele bedrijven en particulieren die op Yorcom.nl rekenen als betrouwbare partner en kwaliteitsleverancier. Als een van de weinige computerbedrijven in Nederland levert Yorcom.nl zelf samengestelde computers direct uit eigen voorraad. Overtuigd van eigen kwaliteit geldt voor deze eigen productlijn 8 dagen DOA garantie. Een defecte Yorcom PC wordt dan ook direct omgeruild zonder vragen. Mocht een PC in een later stadium defect raken dan vindt herstel plaats binnen 1 tot 3 werkdagen en tijdens de reparatietijd krijgt men geheel gratis een laptop in bruikleen. Ofwel service en kwaliteit staan op nummer 1!
Naast Computers en laptops levert Yorcom.nl ook de meest uiteenlopende producten en oplossingen. Van een ouderwets koppelstukje tot het nieuwste product dat morgen op de markt komt. Ook voor het huren van Beamers (+ projectiescherm) en laptops kan men bij Yorcom.nl terecht tegen de laagste prijs in Nederland. Een scherpe prijs, snelle levering, geen gezeur bij garantie en ook bij schaarste geen "nee" te hoeven te verkopen.
Voordelen Yorcom.nl:
• Al meer dan 11 jaar actief op de Nederlandse en Belgische markt;
• Fysieke winkel/showroom met deskundig personeel;
• Eigen technische dienst;
• Ruim assortiment A-merken;
• Lage verzendkosten van slechts €4,95 incl. BTW;
• Support en advies tegen lokaaltarief en direct een medewerker aan de telefoon;
• Realtime prijzen en voorraadstatus op de website.;
• Voor 16.30 uur besteld is volgende werkdag al in huis;
• Levering uit eigen magazijn;
• Geen annulerings- en/of reserveringskosten;
• Verhuur van laptops en beamers;
• Bij een eventueel defect product in de meeste gevallen direct een omruiling;
• Bij PC & Laptop reparaties gratis een laptop in bruikleen tijdens de reparatietijd;
• Diverse betaalmogelijkheden: iDeal, vooruitbetaling, creditcard, of PIN;
• Voor zakelijke klanten is uiteraard ook levering op rekening mogelijk.
Heb jij wel eens zaken gedaan met
Yorcom Computers B.V.
(yorcom)?
Deel jouw ervaringen met anderen!